BeyWheelz Wiki
Welcome to BeyWheelz Wiki! The BeyWheelz online encyclopedia.
BeyWheelz: Powered by Beyblade is a Canadian/Japanese anime series, a spin-off of the series Beyblade.[1] While it has been produced in Japan, it has yet to be aired in Japanese. Originally commissioned by Nelvanato make up for Beyblade: Metal Fury's shortened season, BeyWheelz is a series of 13 episodes, which is set in an independent continuity. The series is followed by BeyWarriors: BeyRaiderz, which acts as a continuation story for Sho, Jin, and Leon.
It was created due to the fact, Beyblade: Metal Fury was cut to thirteen minutes beginning with its 27th episode, The Lion Going Into The Wilderness in order to share its time-slot with Cross Fight B-Daman. With this as a backdrop, all international versions of Metal Fury will consist of 39 thirty-minute episodes with BeyWheelz as an extra 13-episodes to finish off the series with 52 episodes.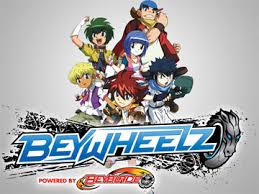 Toys
Within the series
BeyWheelz were said to be formed from a star fragment, just like its predecessor, Beyblade: Metal Fury. A BeyWheel is just like a Beyblade, only the toy has a slightly thicker outermost wheel and it is made to spin on its side. In the anime series there are three types of battling. One type is a Crash Battle. Two players battle in a head-to-head match and one person is the victor. Another type is a Race Battle. Two tops engage in a race to see who is the fastest. The last type is a Stunt Battle. Players see who will win by tops clashing with no mercy and only one will be left standing.
In real life
In May 2012, Hasbro displayed the BeyWheelz toy line at the American International Toy Fair in New York City. You have a launcher and a Beywheelz to fight and race other people. There are four parts of a Beywheelz, a spirit axle, a spirit shield, an energy core and an attack gear
Directed by
Katsumi Hasegawa
Studio
SynergySP & Nelvana Animation
Licensed by
NA

Hasbro Studios Nelvana

Original network
Cartoon Network


YTV

English network
AU

Eleven

Original run
August 11, 2012 – October 6, 2012
Episodes
13
Pages created so far